NALA!!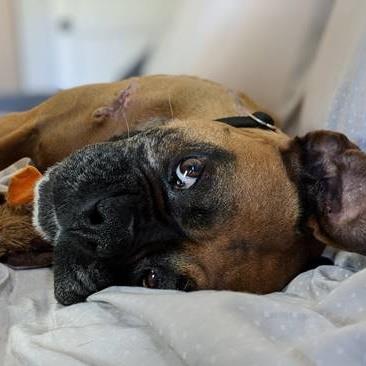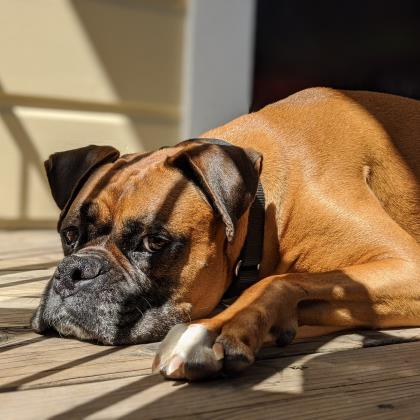 | | |
| --- | --- |
| Age | 6 y; 3 m |
| Weight | 59 lbs; 8 oz |
| Gender | Female |
| Breed | Boxer Mix |
Nala is a lovely, friendly gal. Being close to her person is important to her, yet she's not clingy at all. Nala likes to hang out with her peops and have a calm and relaxed time. If you give her a few scritches behind her ears and on her neck, she will reward you by being your very best friend. Nala can be unsure of new people though and needs a proper introduction. For that reason we are recommending a quiet home and neighborhood with adults and possibly older kids.
A word from her foster parents:
Nala is a sweet, beautiful, and the most gentle companion for any family. She loves her people and gets equally excited to meet new people. In the mornings, when she first comes out of her cage, she gets so excited and presents her hedgehog. She does an incredible little dance around you just so you know how hard she worked all night to catch the said hedgehog. Throughout the day, she just hangs out on the couch or in her bed. She loves attention, but she'll never beg for it. So make sure you give her all the love and spend some quality time with her. When it's time for some love, she'll just lay there and let you smother her with all the love you have to offer. When left alone at home, she's free to roam the house, but usually just goes back to her napping routine. When you make any move towards her leash, she knows it's time for a walk. And you'll never see a more excited dog. Throughout the day, she'll let you know she has to go out by just quietly sitting by the back door. I then open the door slightly, she goes out to the backyard, does her business, and promptly comes right back–a treat worthy behavior every time! When she has energy to give off, I go out to the backyard with her and we run around together. And when it's meal time, as soon as she hears the sounds of her meal being prepared, you'll never see a dog run faster to her cage. You'll fall in love with Nala before you know it!
---
DONATE TO THE SFSPCA!
"During this unprecedented time, we continue to provide lifesaving care for animals in San Francisco and across California. Many animals remain in our care at our shelter and in foster homes. Our two vet hospitals are open to provide emergency care. We continue to advocate on behalf of animals so they are not forgotten during this crisis.
We don't know what tomorrow will bring, but we urgently need your help to continue caring for animals during the COVID-19 outbreak and beyond. Please donate today!"