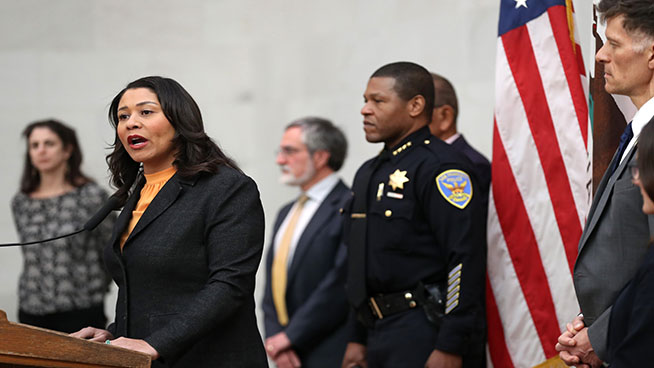 ---
What was supposed to be a special outdoor hearing on San Francisco's drug crisis with Mayor London Breed and the Board of Supervisors at United Nations Plaza quickly devolved into absolute chaos on Tuesday.
San Francisco has been tolerating "illegal, out-of-control behavior for far too long," Mayor London Breed proclaimed during her brief time on the podium.
Mayor Breed and Supervisor Aaron Peskin were only able to speak at the microphone about the city's crisis for a few minutes before booing and shouting from the crowd escalated.
The city is planning a pilot program that could allow for tighter enforcement of laws against open-air drug use. Supervisor Dean Preston tweeted his opposition to the mayor's plan, calling it "cruel, and counterproductive."
Police say during the session a woman threw a brick at people, striking a juvenile. The San Francisco Police Department confirmed that the 26-year-old woman had been arrested and booked into jail for child endangerment and assault with a deadly weapon.
Board President Aaron Peskin then called for a recess and for the meeting to resume indoors. Then, like a bad tv show, the city's livestream video feed cut to black and played light music in the background.